Sack Truck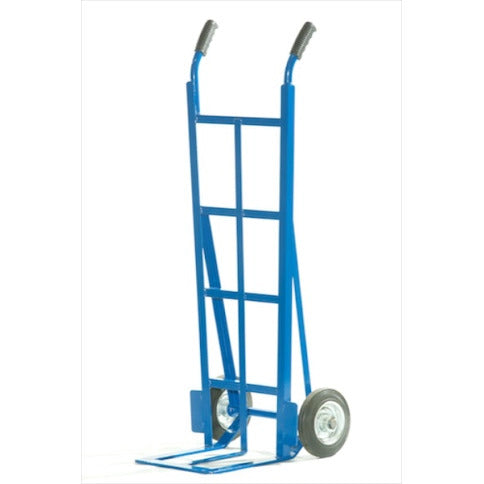 Sack Truck
Stored & Handled
Regular price £180.00 (£150.00 ex. VAT) Sale
Key Features 
Capacity: 300 kg
Foot Size: 345 x 225 mm
Overall Height: 1225mm
Material: Mild Steel
Wheels: 200 mm Rubber steel centre on roller bearings
Finish: Powder Coated Blue
Weight: 18Kg
Why Buy From Stored and Handled 
Affordable Low Prices
Excellent Customer Care 
Made in Britain 
Introducing our Sack Truck, a robust and efficient solution for moving heavy loads with ease. With a capacity of 300 kg, this truck is designed to handle a variety of tasks, making it ideal for warehouses, delivery services, and other industrial applications.
Constructed with durable mild steel, this sack truck is built to withstand the rigors of daily use, providing long-lasting reliability. The 200 mm rubber wheels, featuring steel centers on roller bearings, ensure smooth and controlled movement, even over rough terrain.
Whether you need to transport sacks, boxes, or other heavy objects, our Sack Truck is designed to meet your needs. Invest in this sturdy and versatile truck to improve efficiency and safety in your material handling operations.
Made To Order