Single Column 12 Level A4 Medical Trolley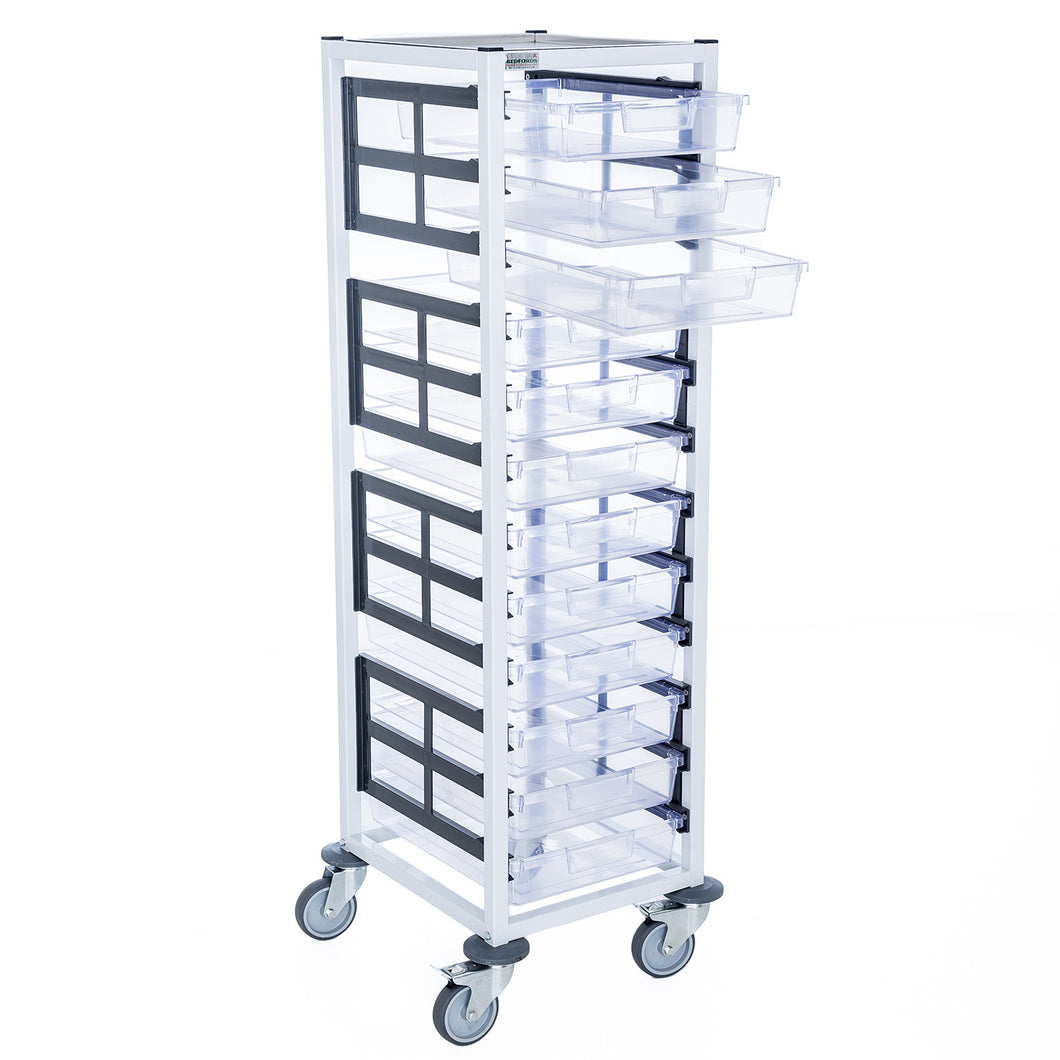 Single Column 12 Level A4 Medical Trolley
Stored & Handled
Regular price £272.00 (£226.67 ex. VAT) Sale
Key Features 
Dimensions For Trolley - (W) 449mmmm x  (D) 501mm x (H) 1390mm
Glide and Tilt System 
Robust
Stainless Steal Worktop 
Holds 12 Trays
Suitable For 
Medical Storage Solutions 
NHS
General Storage Needs
Why Buy From Stored and Handled
12 Month Guarantee
Affordable Low Prices
Direct To You
High Quality

 
A premium medical racking trolley for effective storage of equipment, records and files. This is one of the safest and toughest medical storage solutions on the market and is made from a super-tough, shatterproof polystyrene.
The simple design and rigid structure offer high load capacities and give easy access to stored items.
Designed for efficiency and strength, the single column medical tray storage trolley holds 12 trays (A4) which can be purchased separately to match individual requirements.
The Glide & Tilt system holds trays open in an angled position during use, making it ideal for patient records and paperwork. Hard wearing castors allow easy movement even when fully loaded with papers which is an important factor when files need to be transferred between departments within a hospital or healthcare setting.
All our medical tray storage trolleys are supplied with a white framework and recessed Stainless Steel (304g) worktop which is ideal for easy viewing of paperwork and files.
This is one of our most popular wheeled storage units for a wide variety of settings and in particular for medical environments where durability and reliability are important. It offers excellent value for money and is designed to be hard wearing enough to cope with heavy daily use and movement. 
Please contact us if you have any questions.